Broker-Owner | Realtor Tim Scott Real Estate
Tim Scott Real Estate
725 Railroad Street
St. Johnsbury, VT 05819
Email Phone: 802-748-8000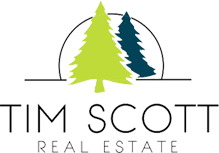 About Tim
Personal
Timothy Scott is a life-long resident of the Northeast Kingdom and a third-generation real estate professional. He has a deep love for Vermont, from the peak of Burke Mountain to the quaint New England towns of Peacham and Barnet.
As a real estate agent since 2001, Tim truly understands the local market of Caledonia County and can vouch for its historically low interest rates and dramatically improving trends. Tim is also a graduate from St. Johnsbury Academy and has extensive experience connecting families to the highly regarded institution.
Understanding modern technology is an important part of marketing real estate, and it's also an integral part of Tim's approach to educating his clients. Using current marketing trajectories with up-to-date research, Tim is excited to help you navigate the complex process of buying or selling your home.
"I am committed to the Northeast Kingdom and love to help people make this special place their home," he says "and it's where my wife and I have chosen to raise our daughter."
As an outdoor enthusiast, Timothy spends his free time mountain biking and skiing at Burke Mountain.
Areas Covered
Born and raised in the Northeast Kingdom, Tim Scott has a deep love and extensive knowledge of the area from the peak of Burke Mountain to the quaint towns of Peacham and Barnet.
Tim's Testimonials
"We had 3 offers the first day it was listed in a tough market. Things went seamlessly from start to finish. There is just not anyone better. His advice was priceless and spot on. I have bought and sold 8 homes over the last 30 years and he was the best I ever worked with. You need him on your team!"
Ron K.
Tim was very easy to work with . Very Professional! We felt that he was very knowledgeable of the local community and the area! He was helpful when negotiations were difficult to understand, he helped to explain.
Beverly H.
Tim is great to work with. He cares about his client and wants what's best for them. He had a our home under contract in 23 days after it his the market. Highly recommend Tim for selling and buying a home.
Greg L.
Tim was amazing.. He is on top of everything returns phone calls he. Is. Super nice person in general.. He sold my home and lot in a week when no one else could.. My home was on the market for 6yrs! I went through several realtors. They put the sign in the yard. Never to be heard from again.. This man is a go-getter works hard for his clients... I highly recommend him.
Michelle G.
Tim was a quiet, but steady, presence throughout the sale process of our lakefront property. He was sensitive to and always respectful of the fact that the property had great sentimental value to the family. It is hard to say good-bye to a piece of property that has been such an integral part of the family for so many years and he recognized that fact. If we had it to do over again, I would choose Tim as our agent.
Shauna K.
"Tim had our house under contract 24 days after listing it. We had three signed offers to choose from. In a traditionally depressed area, these facts speak for themselves. We were able to move on with our lives and not have the stress of owning two homes through an expensive heating season. Tim did a fantastic job. He has a team of professionals working with him, making sure that the online exposure of your home hits quickly and in a calculated way. We had 1600 online [...]
Scott L.
Tim is wonderful. He made things very easy and was always a pleasure to work with. He took care of all the details and I never worried. I would definitely recommend, Tim!
Tammi S.
Tim was excellent to work with. He knew what we needed. Answered questions when asked. Gave very good advice. Was hard not to give notice to leave my job but when explained why I understood. Linda did an wonderful job with the pictures and the walk thru with the pictures. The advertising was the best.
Peggy M.
[Tim] Scott is very knowledgeable on the area -- he helped determine the annual property tax in a complex given the situation before we made an offer. He helped us determine a reasonable value with local comparative sales to assist us in making an informed offer. He provided us with knowledge on local factors likely to influence property values in the future. He assisted us throughout the price/terms negotiation process, enabling us to get a fair price that both us and the seller could live [...]
He used his excellent knowledge of the area along with home values to price and market my home correctly for the most exposure and interest to potential buyers. Tim got my home under contract and closed within a short period of time and the correct price. I would recommend him highly to anyone looking to sell or buy a home or property.