Broker-Owner | Realtor Tim Scott Real Estate
Tim Scott Real Estate
725 Railroad Street
St. Johnsbury, VT 05819
Email Phone: 802-748-8000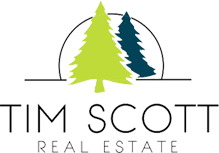 About Tim
Personal
Timothy Scott is a life-long resident of the Northeast Kingdom and a third-generation real estate professional. He has a deep love for Vermont, from the peak of Burke Mountain to the quaint New England towns of Peacham and Barnet.
As a real estate agent since 2001, Tim truly understands the local market of Caledonia County and can vouch for its historically low interest rates and dramatically improving trends. Tim is also a graduate from St. Johnsbury Academy and has extensive experience connecting families to the highly regarded institution.
Understanding modern technology is an important part of marketing real estate, and it's also an integral part of Tim's approach to educating his clients. Using current marketing trajectories with up-to-date research, Tim is excited to help you navigate the complex process of buying or selling your home.
"I am committed to the Northeast Kingdom and love to help people make this special place their home," he says "and it's where my wife and I have chosen to raise our daughter."
As an outdoor enthusiast, Timothy spends his free time mountain biking and skiing at Burke Mountain.
Areas Covered
Born and raised in the Northeast Kingdom, Tim Scott has a deep love and extensive knowledge of the area from the peak of Burke Mountain to the quaint towns of Peacham and Barnet.
Tim's Testimonials
[Tim] Scott is very knowledgeable on the area -- he helped determine the annual property tax in a complex given the situation before we made an offer. He helped us determine a reasonable value with local comparative sales to assist us in making an informed offer. He provided us with knowledge on local factors likely to influence property values in the future. He assisted us throughout the price/terms negotiation process, enabling us to get a fair price that both us and the seller could live [...]
We were selling a property from a distance and found that Tim Scott was professional and thorough. When it came time to consider offers, he advised us carefully and wisely, and brought the sale to closure with a minimum of drama and a maximum of efficiency. As a result, the house is now in the hands of a young family who are making it theirs and who will love it as we have. Such a result makes the process worthwhile, and we are grateful to Tim and Linda for their expertise and fine [...]
Nancy H.
Tim is an exceptional realtor. He is so "plugged in" to everyone in the community and seems to have his hand on the pulse of the real estate market. He was our 2nd realtor, we learned the hard way but quickly that not all realtors are good realtors. Fortunately we contracted with Tim & he had qualified buyers ready to see our home in the first week and our first offer came within 10 days. The offer we accepted came to us only 6 weeks after Tim got the listing. He promoted our [...]
Lisa N.
"We had 3 offers the first day it was listed in a tough market. Things went seamlessly from start to finish. There is just not anyone better. His advice was priceless and spot on. I have bought and sold 8 homes over the last 30 years and he was the best I ever worked with. You need him on your team!"
Ron K.
Very glad we used Tim. He is very down to earth, and easy to ask questions to. He clearly had our best interests in mind throughout the entire process. Our house was under contract just over a week after listing it. I highly recommend Tim and his team to anyone looking to buy or sell real estate.
Deborah B.
From the beginning of the process it was clear that Tim was looking out for our family. His helpful suggestions and positive attitude made it easy to sell our home and buy another home that suited our family better.
Tim and his team were great to work with, professional and responded to my emails, texts or phone calls promptly. He was very helpful through the whole experience of getting my house on the market through the closing process. I would highly recommend Tim!
Theresa H.
My husband and I had a great selling experience with Tim Scott. From day 1 of dealing with Tim, he was responsive to all of our questions, and never left anything unanswered. He gave excellent advice, and were in contract for the sale of our house in less than 6 months of being on the market. Today was our closing date, and I cannot speak highly enough of our overall experience with Tim Scott Realty!
Courtney D.
I recently had the pleasure of working with Tim Scott and Linda Pakus of Tim Scott (Real Estate) and highly recommend their firm for both home buyers and sellers. I looked at several other local realtors before deciding to place my home with Tim and was quite impressed with the online presence and high quality sales videos he developed. My experience was quite positive and I will use them again in future real estate transactions.
Susan N.
"I was very impressed with Tim Scott and his company. They did an excellent job marketing the house, we had numerous showings the first week with 2 offers the following week. Tim did a great job negotiating and was a tremendous help guiding us with issues that arose during the process and offered us reasonable solutions. I highly recommend Tim Scott."
Glenn H.